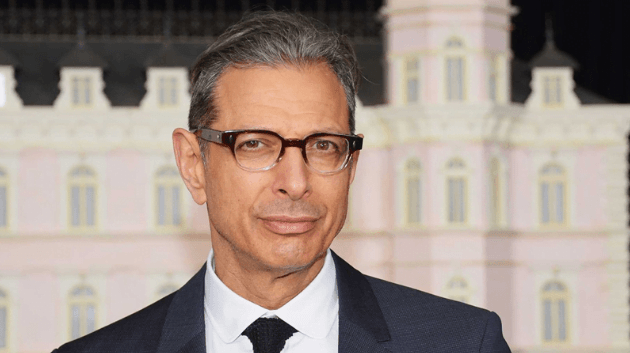 Jeff Goldblum Inspired Glasses: Find Your Eyewear Inspiration With 12 of His Most Memorable Looks
Unconventional, charismatic, a perfect gentleman, with a flawless sense of style that perfectly blends simplicity and eccentricity. How would it be possible not to love the Hollywood legend, the jazz player, the style guru, Prada enthusiast – the one and only Jeff Goldblum?
We all want a little Goldblum in our lives. Best place to start? Find a pair of glasses that will get you one step closer to that impeccable Jeff style.
He's taken a crazy ride with his eyewear collection, both on and off screen, leaving us always swooning. Across the years, he's jumped from one style to another, from narrow to oversized frames, and from clear to jet black specs. Wearing glasses has become quintessential to his appearance, and, boy, does he wear them well!
While now Jeff Goldblum's signature eyewear is a pair of bold thick black rims, let's take a look and get inspired by some of the best eyewear moments in his career: as iconic as the star himself.
1. The Narrow Rectangular Glasses Jeff Goldblum Wore in Jurassic Park, 1993.
Can you imagine a world where Jeff Goldblum didn't appear in Jurassic Park? Us neither.
Dr. Ian Malcolm, the sarcastic, idiosyncratic mathematician with an audacious sense of humor managed to become one of the most beloved characters in the franchise…and what's more, he sure knew how to sport a pair of tinted eyeglasses. The rectangular frames with the slick flat top browline and the robust look are every mathematician's dream.
Get the look:
If you want to look like a young Jeff Goldblum in glasses, you can either go with the After Hours or the Sheik frames. You may not have to save the world from a dinosaur invasion, but you sure will look as cool as it gets with these classic specs.
2. The Retro Specs Jeff Goldblum Sported in Independence Day, 1996
Leave it up to Jeff Goldblum to help save the human race from an alien invasion and look ultra stylish doing so. David Levinson, the geeky satellite technician played by the Hollywood icon in the 1996 Independence Day conveys poise, power, wit and boldness with this timeless pair of specs.
Get the look:
If you're going for a classic look that is right at the intersection between geeky and high fashion, draw your inspiration from Mr. Goldblum and opt for a pair of sharp, timeless frames, like the Porto in tortoise or the bold yet subtle Sharp frame. They'll fit you perfectly especially if you have an oval, square of diamond shaped face.
3. The Clear Frames from Independence Day: Resurgence, 2016
20 years later, the Earth is once again under attack and we are once again in awe at how dapper the one and only Jeff Goldblum looks with eyeglasses. The man can pull any style, can he not? The clear eyeglasses sure make a statement and are definitely worthy of the Director of Earth Space Defence. Simple, fearless, chic, Levinson is serving us looks that leave us craving for more.
Get the look:
Four years after the premiere of the movie, the clear glasses Jeff Goldblum wore in Independence Day: Resurgence are still all the rage. Copy Levinson's look with the Hester frame. These eyeglasses will complement any face shape, are extremely stylish without being flashy and their keyhole-bridge will make them beyond comfortable.
4. The Narrow Clear Frames Worn at the Opening Party of the 57th Berlin International Film Festival, 2007
Jeff Goldblum doesn't only serve fabulous eyewear looks in his movies. The multi-talented actor is just as well known for his fabulous choices of specs in everyday life.
A pair of truly timeless glasses are the ones he wore at the opening party of the 2007 Berlin International Film Festival. These are definitely more under the radar compared to his most recent, much bolder eyewear choices, yet the rectangular, clear frames are sleek and subtle, bringing all the attention to the eyes.
Get the look:
This picture may have been taken over a decade ago, but some accessories stay classic, no matter how much time hangs in the balance. For a look that copies Goldblum's almost perfectly, try the Prince eyeglasses. Their humble, elevated appearance is a perfect blend of the charm of older days and the spontaneity of today.
5. The Timeless Brown Frames he Wore in 2010
Although more often than not a pair of black eyeglasses are Goldblum's top choice, he looks just as handsome in brown shades. These oval specs give off a nerdy vibe that we are all here for.
Get the look:
Take a page out of Goldblum's book and opt for a classic, yet bold frame in a brownish nuance. The Billy B or the Jay are great choices that won't let you go unnoticed.
6. The Half Clear Frames He Wore at The New York Premiere of the Grand Budapest Hotel in 2014
There is no red carpet event where Mr. Goldblum didn't bring his A game and the 2014 premiere for the Grand Budapest hotel was no exception. With his half clear eyeglasses he makes sure he serves just the right amount of mystery, cheekiness and uniqueness. Once again, his taste in eyewear is on the money.
Get the look:
It's not hard to recreate this look with the slow fade acetate tone Old School glasses. You can also find these gorgeous retro frames in black and tortoise if you're more of a traditionalist. We're sure Mr. Goldblum would approve.
7. The Round Clear Glasses He Wore to the Mortdecai Premiere in Los Angeles, 2015
Few things are classier than a clear frame and at the same time, few accessories cand give you more of a playful, modern look than a pair of well chosen transparent glasses. And, boy, does Goldblum deliver. He experimented with smaller and larger frame styles, but these round specs are something special.
Get the look:
Clear glasses are a winner since they complement almost every complexion and face shape. The classically cool Figatta Troppo frames will elevate your outfit, be it on the red carpet, like it did for Goldblum, or on your quick grocery run. Who said you can't look like a superstar on your way to the store?
8. The Thick Black Framed Glasses Jeff Goldblum Wore to the Screening of Isle of dogs at the MET in 2018
Nothing screams Jeff Goldblum louder than a pair of thick, black framed glasses that manage to bring any outfit to the next level. This kind of statement glasses that look classy yet feel modern are quintessential Goldblum. Paired with a simple, yet elegant all black outfit and with that contagious smile – what more could we wish for?
Get the look:
If you want to emulate his look, choose a pair of black rims and wear them with Goldblum-esque confidence. Our stylishly bold and wide fit Passeggiata specs will have you brimming with determination while living your Goldblum fantasy.
9. The Oversized Square Frames He Wore for a Sharp Magazine in 2018.
Saying Jeff Goldblum loves a black frame is an understatement. The man has managed to make the horizontal black rims part of his personal brand to the great delight of his fans who can look to him for inspiration.
Get the look:
The oversized square frame Wilsons , with their angular silhouette and clear lines, are the perfect combination of retro and modern that will help you stand out. Step in the shoes of this pop culture icon by embracing a wider fit that's as stylish as it gets.
10. The Black Glasses Goldblum Wore at the 2019 TCM 10th Annual Classic Film Festival in Hollywood
A red carpet look to die for: an interesting blend of flower and animal prints, bold colors and even fur – while it may sound like a lot, Jeff Goldblum manages to pull it off. He completes the look with a bold pair of glasses that fit his personality perfectly. Much like the beloved star, they exude confidence, adventure, power.
Get the look:
Why blend in when you can stand out? This seems to be Jeff Goldblum's philosophy and you might as well embrace it and rock the Dapper frames in jet black.
11. The Round Mirrored Sunglasses
Taking his rightful place as a style guru, Goldblum proves that sometimes the right pair of sunglasses can take even the most basic outfit out of anonymity. It looks like he's wearing the sunset on his face, the round frames bringing a whole new level of sophistication
Get the look:
If you're looking for a pair of sunglasses that can transition seamlessly from a sophisticated to a casual outfit, the Devon frames are here for you. Channel your inner Goldblum and go big or go home.
12. The Round Sunglasses He Wore during an Interview for the Late Late Show
The quarantine has not affected Goldblum's sense of style one bit. The iconic actor appeared on the Late Late Show with James Corden to bring attention to the LA Food Bank in what was an interview filled with joy, charisma, chaos and enthusiasm. The round tinted glasses he sported during the interview fit his eccentric personality perfectly.
Get the look:
With the Penn sunglasses you'll be one step closer to looking like Goldblum's twin. You can try them in Jet Black, Brown Stripe, Transparent Honey or Tortoise. No matter which one you choose, you'll undoubtedly look like a superstar.
What is your favorite frame style?
Finding the perfect glasses takes time and experimentation but following in Jeff Goldblum's footsteps and watching closely his inspired fashion choices is bound to get you closer to that perfect pair of specs.
Discover more stylish men's glasses styles similar to what Jeff would wear on Vint & York!